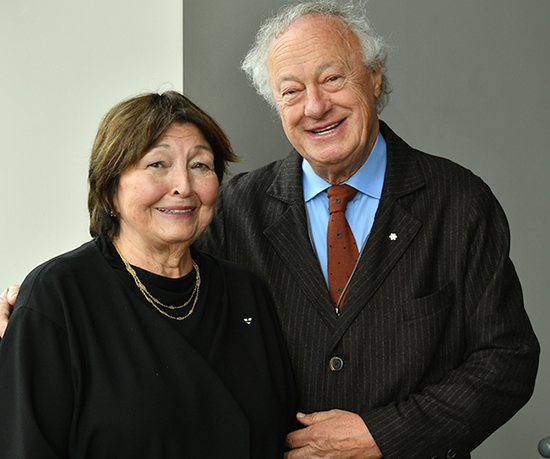 York University is deeply grateful for a leadership gift of $5M to build a new art gallery on the Keele Campus to solidify York's long commitment to visual arts.
With this extraordinary gift, Joan and Martin Goldfarb's heart-felt philanthropy secures the future of talented young students – and builds an exciting future for the visual arts community at York University and beyond.
The Joan and Martin Goldfarb Gallery, a new, stand-alone building, will be designed and constructed by award-winning architectural firm Hariri Pontarini Architects.
The new building will sit at the heart of the School of Arts, Media, Performance & Design and become a centrepiece at York's Keele Campus. Just steps away from the York University subway station and adjacent to the Harry W. Arthurs Common, between the Accolade East Building and the Centre for Film & Theatre, the gallery will stand out as an icon with Hariri's signature curves.
"The new, Joan and Martin Goldfarb Gallery will be an important hub for artistic engagement and the pursuit of creative excellence at the University, in our community and beyond," said York President Rhonda Lenton. "The new design reflects our vision of an accessible and collaborative art gallery that serves as a space for creation, exhibition and appreciation of diverse art and culture. I would like to thank the Goldfarbs for their generosity and unwavering commitment to the arts, which made this project possible."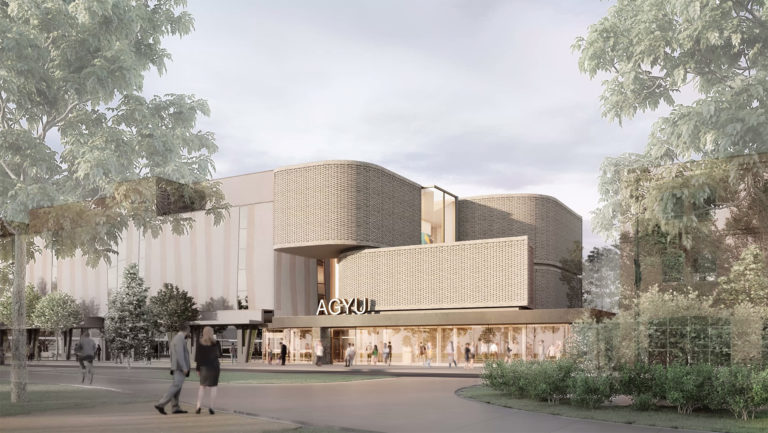 The Goldfarb family has given to York for more than 30 years in support a great number of initiatives for York students. They have made donations for research, lecture series, as well as student scholarships – all helping to change the lives of students for generations to come.
This visionary new donation for the art gallery is in addition to a previous gift to York of spectacular highlights from their personal art collection and a gift to establish the Joan and Martin Goldfarb Centre for Fine Arts – which gave students a place to hone their skills, connect to each other and the world, and reimagine the future.
"We hope the new gallery will be a gathering place for people from all walks of life and different backgrounds," said Dr. Joan Goldfarb. "We hope it will inspire the general community to learn about visual arts and visual language."
Dr. Martin Goldfarb echoed his wife's sentiments, adding: "York will be a place for people to come and experience art, as well as share ideas with their colleagues and professors."
"The Goldfarbs' gift is a well-timed gesture of optimism for the future, not only as an investment in the excellence of arts education at York University, but also as a powerful reminder of the unique joys and lessons of gathering together in shared space," says Sarah Bay-Cheng, Dean, School of the Arts, Media, Performance & Design. She continues, "the impact of this new gallery space is not just the chance to stand in the presence of great art, but, perhaps more importantly, the opportunity to be in community with each other."
The Goldfarbs' motivations behind this gift are deeply personal. Having been involved in visual arts since they were young, they know the power that art has.
"Art is everywhere," said Martin. "It allows for creativity, new ways of expressing yourself, and new ways of thinking."
"Art is something that everybody can experience," added Joan. "But the commonality of visual language provides an opportunity to make the world a better place for everyone."
Jenifer Papararo, Director and Curator, Art Gallery of York University notes that "Joan and Martin's generous donation reinforces their long commitment to the arts and belief that art is an essential part of education and daily life. Their foresight in giving this gift is one that will impact artists and build audiences for art far into the future as it enhances the capacity of the Art Gallery of York University's contemporary art program – while supporting the development, activation, expansion and care of the University's collection."
The University will leverage the Goldfarbs' contribution with an additional $3M toward the new gallery and is pleased to welcome additional philanthropic partners to support the Joan and Martin Goldfarb Art Gallery.